HELP


Got a question you need answered? You might find the solution in our frequently asked questions below!
FAQ's
Step-by-Step guide to placing an order:
- Choose either printing or embroidery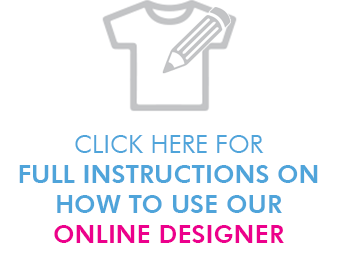 - Choose the product you want from our product page
- Click 'Design Now' to add your design
- Choose the quantity, sizing and colours to get a price
- Upload your print-ready artwork or add text and images
- Go through the checkout* and make payment
- Track your completed order in My Account
*You will need to register as a customer
before your order can be completed
What types of artwork file do you accept?

We accept the following file types:

Here are some specifications for those files:
PDF
Colour: CMYK Resolution of images: 300dpi Fonts: embedded
JPEG
Colour: CMYK Resolution: 300dpi Fonts: Rasterised
Vector - AI, EPS or Coral Draw
Colour: CMYK Resolution or images: 300dpi Fonts: All text must be converted to curves or outlines - or send us your font (TT) file.
In some cases, we can accept Word, PowerPoint or RTF files - But did you know that you can export all of these files to Jpeg or PDF? Contact us if you need any help with this.
Why do I need to supply CMYK artwork?
The RGB spectrum is for screen or computer viewing. It has a much larger field then the CMYK spectrum. If you supply RGB artwork, you may find that it will differ when printed to what you supplied. Bright colours will appear duller. We will convert everything to CMYK before we go to print, so if you want to make sure that what you're printing looks right, make sure it's in CMYK first. Contact us for technical support, or we can send you back an exact proof of what it looks like in CMYK.
Do you have a minimum order quantity?
We don't have a minimum order quantity, but we do lower the cost per unit when you order more than one.

What are your products like?
We offer a range of t-shirts, polo shirts, hoodies, sweatshirts and much more for men, women and children in a range of colours. Click here to view our printing products and here for our embroidery products. If you're looking for something you can't see here, just contact us, and we'll do our best to source what you're looking for from our suppliers.

Can you print onto one of my garments?
Yes, we can print on your own items of clothing, but this is subject to an inspection of the material composition of the item. All you would need to do is call us on 0800373503 to place the order and then send us the item to our head office address, which you can find here.

We are unable to embroider onto customer's own garments. If you're looking to purchase an embroidered item, click here to view our range of embroidered products.

Can I buy a blank product from you?
No, we do not sell blank products.

Can I choose the method of printing you use?
When you place an order, a member of our team will assess which method of printing is best suited to your artwork. We can print using DTG, Vinyl or Transfer paper. If you have knowledge of these methods and have a preference for what you'd like to achieve, just give us a call on 0800373503 and we can talk you through the different options and then confirm the method. If you're ordering more than 50, it might be worth requesting a sample from us first.

What is your turnaround time?
Here at TShirt Print, we pride ourselves on a fast turnaround time. It's often dependent on a number of factors - what your artwork is like, if we have your product already in stock and what the overall quantity is. If you're ordering a small quantity and we already have the garment in stock, we can often get these in the post to you within 2 days. However, the more you order, the more time we would need to print the order. It's important to remember not to leave your orders to the last minute, as printing larger orders can take more time.

How much does a t-shirt cost?
Simply click here to view our range of printing products and here for our embroidery products. When you go into the online designer, a price will be displayed - the more you order, the more the price per unit goes down! If you need any more help with pricing, please feel free to contact us or send a quote request form.

What size are the t-shirts?
You'll find the sizing information (usually inches across the chest) in the 'product description' or 'product details' if you're on the online designer.

How much is delivery and where do you ship to?
For full information on our delivery cost and shipping methods, click here.

Can I get a discount if I am a charity?
Yes, that would be subject to a discussion with our team - Just give us a call on 0800373503 or email us at sales@tshirtprint.co.uk

Can you help me design a t-shirt?
Yes, we have a FREE design service - our team of experts have years of design and print experience behind them and would be happy to help you to perfect your design. We will send you a proof of what it looks like and make changes until you're happy with it. If you're already a seasoned pro at designing and want to send us your artwork already done, just place the order and upload your artwork online, or email us at sales@tshirtprint.co.uk and we'll check it over to make sure it's ok to print!

What's the maximum print area?
For DTG the maximum print space is 42x60cm. Vinyl and Transfer printing goes up to A3 size, so 29.7cm x 42cm. For embroidery, the smaller, the classier.

I've received my order and the colours look different - why?
All artwork needs to be in CMYK colour mode when printed. There are two types of colour modes, the other is RGB. Sometimes, people create their artwork in RGB without realising it, and RGB is much more vibrant in colour because it's for viewing on a screen. When something created in RGB is printed in CMYK, it can sometimes look duller. There are a number of ways to get around this. Firstly, try to make sure what you've sent us is in CMYK colour mode. Secondly, if you don't know how to do this, just ask us, we can do it for you and send you back a proof. Thirdly, if you want to make it more vibrant, we can edit it a bit for you by upping the saturation of the artwork. If you take these steps first, there's no reason why your artwork won't look the way you intended it to.
I've received my order and the colour of the garment looks different - why?
The products on our website are matched up to the colours of the products from our suppliers, but as with everything in life, things shown on a screen will always look slightly different to a product in the flesh (this again is due in part to the difference between RGB and CMYK). None-the-less, we do our best to try to give you a representation that is as close to the true colour as possible. If you are unhappy with the colour of your garment, please contact us, but we cannot be held responsible if the colour isn't quite what you were expecting due to screen colour/ resolution being different to real life. If you're ordering in bulk, why not order one or request a sample blank garment before placing the total order?
We sell tshirts, can we get customers to order direct through you and can you fulfil the order?
Yes, we have a customer centre on our website where we can display your range of prints and where your customers can order direct through us. Click here to view the customer area and don't hesitate to contact us if you'd be interested in knowing more.

I want to get my logo embroidered on a garment. Why is there a set up cost?
If you're looking to get a specific design embroidered onto a garment, we will need to send it off to be digitised. Digitisation is where you turn an image into an embroidery file, full of information about the stitch count and direction. This is a specific skill done by experienced individuals. We usually don't need to digitise text, especially if you are happy to use one of our fonts, but unique images will need to be digitised. The digitising fee goes down the more items that you order. The fee is non-refundable once the design has been digitised, but the good news is, if you come back to us to print more on a later date, we will keep the file on our system, so you won't have to pay the set up fee again. You can read more about digitisation on our embroidery page.